HaneAme Dog Pet Girlfriend 1:6 Scale Statue 2023 pre-order
$189,99 (USD)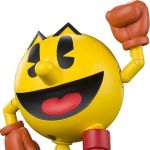 Published By Niksy
Location

USA

Status

In stock

Type

New
---
Details
Explore Related Products: https://www.collcard.com/products/32

1:6 scale HaneAme Dog Pet Girlfriend Statue:

This unique collaboration figure from HaneAme, CACAO, and Good Smile Company is called Dog Pet Girlfriend.


As part of a unique collaborative endeavour, CACAO's illustration of HaneAme's Dog Pet Girlfriend costume has been turned into a scale figurine! HaneAme's alluring appearance has been captured in amazing 1:6 scale size with meticulous sculpting and painting. HaneAme personally evaluated and authorised each stage of the figure-making process, ensuring an accurate replica. Since the figure's stockings are constructed of cloth, you can feel the genuine thing's texture in figure form.